The Independent | September 14, 2010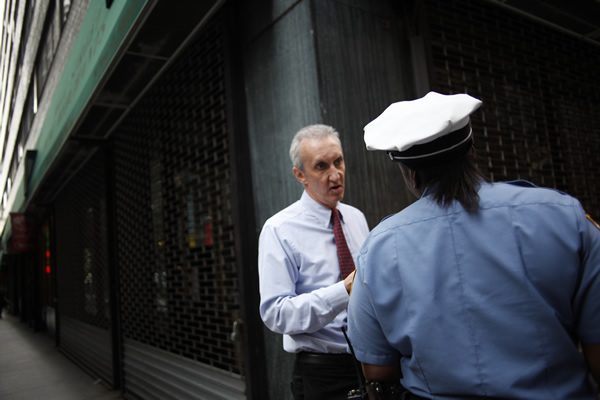 Vehicular vigilante: George Packenham checks the traffic on Wall Street
Leaving your car's engine running might not seem like a crime. But it is – and an unlikely crusader is taking drivers to task. Sophie Morris hears his story
New Yorker George Pakenham leaves his home on the Upper West Side each morning in his suit and takes the subway to Wall Street, where he works on the mortgage desk of an international investment bank. Unlike the other commuters, he doesn't walk with his head down, lost in the crush of worker bees scurrying to their jobs. Instead he has his eyes and ears tuned in to the traffic, looking out for stationary vehicles.
If he spots a car or van which isn't moving but has the engine running, he'll wait a few minutes to see whether it moves off before stopping to speak to the driver. With the aid of a printed card, Pakenham then explains that "engine idling" – keeping your engine running while stationary for more than three minutes – is actually an offence in the City of New York, and has been since 1971. It is a waste of expensive gas and pollutes the air and, as a consequence, contributes to global climate change. What's more, it is punishable with a fine of $115.
Pakenham's crusade to convert engineidling offenders is not as peculiar as it sounds. He has conscientiously identified one of the many silent environmental threats that bubble under city life, and decided to make fighting it his mission.
"It first came to my attention about five years ago," he says. "It was connected to my outrage over the war in Iraq and disdain for anyone who would just burn gas mindlessly. It struck me that our motive for war was a result of our greed for oil, and that irked me.
"The first car I approached was a limo. It took a lot of courage, but I convinced him he was wasting fuel. From that point, I became ardent about talking to drivers. The cards help, as they make it more official."
To date, Pakenham has approached more than 2,500 engine idlers and reports a 78 to 80 per cent success rate. He keeps a record of every interaction, recording on a spreadsheet the date, location, type of vehicle and its plate, the gender and estimated age and race of the driver, whether they were aware of the law or not and a few comments on the incident.
He highlights noteworthy encounters in red. These include: "Tossed card out of the window. Called me a bastard," "Had a gun on a holster at his hip," and "Four cops eating Chinese food in Central Park." These police officers informed Pakenham that the law doesn't apply when they're in emergency mode.
Engine idlers are breaking the law and could be fined for their actions, but while, as Pakenham puts it, "there are 2,300 traffic cops in the City of New York who will write you a ticket for parking by a fire hydrant", getting them to write one for idling used to be a struggle.
"The NYPD laughed it off and the Mayor's office gave me the cold shoulder," he remembers. Bizarrely, under the 1971 law, traffic agents did not have the power to write tickets for idling. Police officers did but were not interested in the issue.
Eventually, he got some support from the Environmental Defense Fund, a non-governmental organisation, in the summer of 2007. In February 2009 Mayor Bloomberg signed a bill clamping down on idling and giving traffic agents the right to issue and enforce tickets. Eleven months passed before Pakenhamheard that a ticket had been written for an idling offence, but research suggests the value of the tickets issued in 2009 could be in excess of $100,000.
Pakenham's friends now call him the Verdant Vigilante and he's made a film about his campaign called Idle Threat, inspired by political film-makers such as Morgan Spurlock (Super Size Me) and Michael Moore (Fahrenheit 9/11).
He points out there is no downside to switching off your engine when stationary. You save petrol and cut pollution just by turning the key. Bus, taxi and private car drivers – the worst offenders – complain that in winter keeping the engine on is the only way to keep warm.
If you've never given engine idling a second thought, you might be surprised to learn it is an offence in the UK, too. The Road Traffic Regulations 2002 give local authorities the right to fine drivers 20 for idling, but few act on it. Critics call it an excuse to squeeze more money out of innocent drivers, but councils usually choose to educate drivers rather than fining them.
Glasgow City Council is taking the lead and began a campaign against idling in 2007. That year, 130 fines were issued and enforcement levels have remained consistent. Elsewhere a commitment to reducing idling appears in the plans of various councils for improving air quality, but little is being done.
In London, the Mayor's Draft Air Quality Strategy includes making the city a no-idling zone and councils are planning their own tactics – Camden will crack down on schools and the taxi ranks at Euston and King's Cross stations soon.
Back in New York, Pakenham says his goal is to "eradicate engine idling". He wants to make it as socially unacceptable as passive smoking. In his eyes, it's as lethal.