See How Verdansa and George Pakenham have made strides in bringing awareness to idling and enforcing idling laws to help reduce carbon emissions.
Scotland's very own verdant vigilante: ticked off by engines left ticking over
Taking his cue from his famous Wall Street counterpart, property manager Eric Kay is spearheading a campaign in one of Glasgow's pollution hotspots to get drivers to switch off so everyone else can breathe more easily. Click here to read more.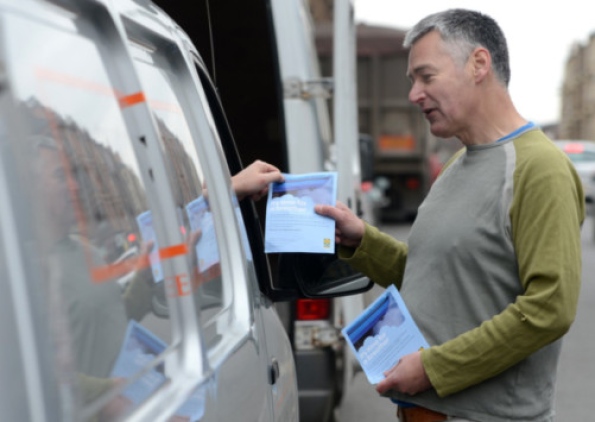 Eric Kay hands out leaflets on the Byres Road in Glasgow.
Picture: Neil Hanna
Summer 2010 - Best of Jenny on Talk Radio 702 South Africa
Talk Radio 702 Johannesburg. Jenny Crwys-Williams hosts a live 20 minute unedited interview with Pakenham on all aspects of the idle-free movement.