George Pakenham - NYC Environmental Activist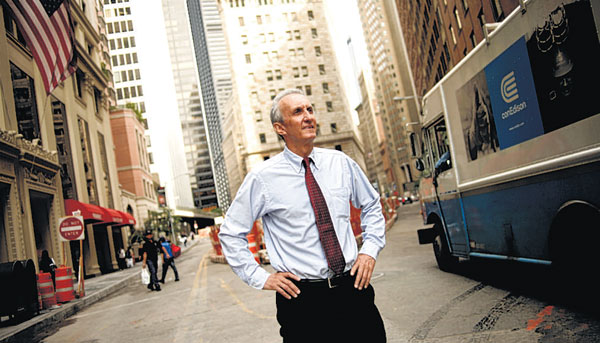 George Pakenham
My role as an activist in the environmental movement is quite focused on idling. Focused and personal. It began more than 4 years ago when we went to war for a second time in the Middle East over oil. And it became ever more aggravating for me to watch fellow NYers, mindless at the wheel, idling their engines and wasting gas… or oil as I saw it. Besides, I felt it was disgraceful on many fronts. Bad Air, health issues, wasted money.
One evening, I became particularly fed up with a stretch limo parked in front of my apartment house, idling, as his customers were inside a nearby restaurant. It was spring, at night and around 50 degrees outside. I knocked on the window. The limo driver and I had a 10 minute discussion. Ultimately, I convinced him to shut off his engine.


Julian Croxall
Julian Croxall is a technology specialist in eCommerce, cloud computing and banking environments. He is co-founder and Chief Operating Officer of our organization, Verdansa. He has been involved in the idle-free campaign since its inception and later working on the creation and distribution of the movie "Idle Threat" and children's book "Big Nose, Big City".
More recently, he has been engaged with city departments to refine and scale processes that will support electronic submissions by citizens.
Thanks to our friends !
Verdant Vigilante would like to thank the following people who, throughout the years, supplied encouragement taking on the 'idle free' task.
Roberta Gowan
Diane Nevin
Meg Stahley
Holly Wise, and her children
Rob and Sarah Wise
Charlie and Kate Wise
Victor and Carla Barbiero and their loving daughter
Julian Croxall
Richard Hofbauer
Greg O'Brien
Steve Burns
Freddie McConnell
Bill and Lola Stanton
Isabelle Silverman
Mel Peffers
Rebecca Kalin
Jane Barnes
Nicholas Aversa
Ashley Nelson Guedez
Hank Woji
Leif Stensson
Ian Cheney
Pam Tighe
Mark Edwards
Josh Tickell
Dan Pasquini
Dan Garodnick
David Hill and his family
Ray Mueller
Ben McGrath
Glenn Oneil
Pascal Porich
Jen Oliver
Carol Sullivan
Pam Scott