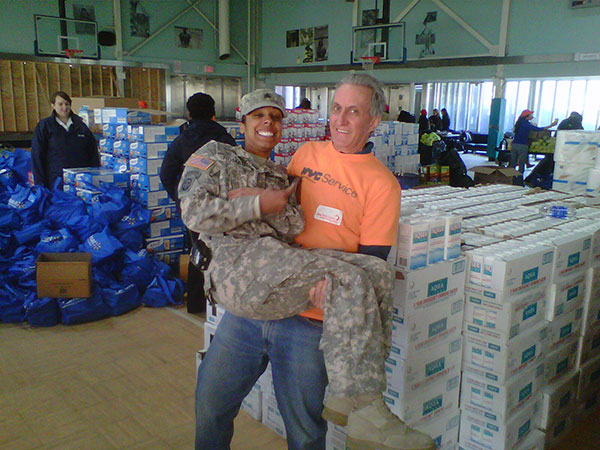 The experience at the Rockaway's on Friday was wonderful.
The activity was focused on distribution of household goods at a community center gymnasium. Perhaps there were 15 bank members on the squad working as laborers.
The gym was filled with neatly stacked households items on wooden skids, arranged like a checkerboard. The items included food, cleaning agents, diapers, blankets, etc.
A team of National Guard soldiers from Massachusetts (with body armor beneath their shirts) oversaw the project. They were in charge of bringing in the goods and stacking them and keep order throughout the day.
In a very timely way, groups of 20 local Rockaway residents (many elderly) entered the gym and visited each of the skid stations. Each person got whatever they needed in order to sustain themselves and their families. No questions asked.
I was the bleach man. I unpackaged about 115 cardboard crates of bleach, 3 huge gallon containers to a crate. I than arranged them in an orderly fashion for pick up by the masses. Only a few gallon jugs remained by the end of the day. I estimate I distributed about 300 gallon jugs. Apparently mold is already a big issue.
It all ran like clockwork! Perhaps ¾ of all the material goods were distributed by 4 pm as we boarded the bus to leave.
What a worthwhile day!!